The Ultimate Guide to Choosing the Best Deck Builder
What are the benefits of having a deck in your backyard? 
Here are just a few: 
A deck can provide extra living space for your family and friends. It's the perfect place to host a barbecue or gather around a fire pit on a fantastic night.

 
Decks also increase the value of your home. A well-built deck can be a central selling point if you ever decide to put your home on the market.

 

Decks are also a great way to enjoy nature. Whether you're watching the birds at your feeder or listening to the sound of the river flowing by, there's nothing quite like spending time outdoors on your deck.

 

A deck is a great place to relax and escape the hustle and bustle of everyday life. With a comfortable chair and a good book, you can spend hours enjoying the peace of your backyard.

 

A well-built deck in your backyard is an excellent place for you and your family to spend time together. 

 

While it may seem only about comfort and relaxation, decks are essential because they add value to a home. 

 
If you're someone who enjoys spending time in nature, a backyard deck is perfect for you! You can watch the birds or listen to the river from the comfort of your deck chair.
What are custom deck builders?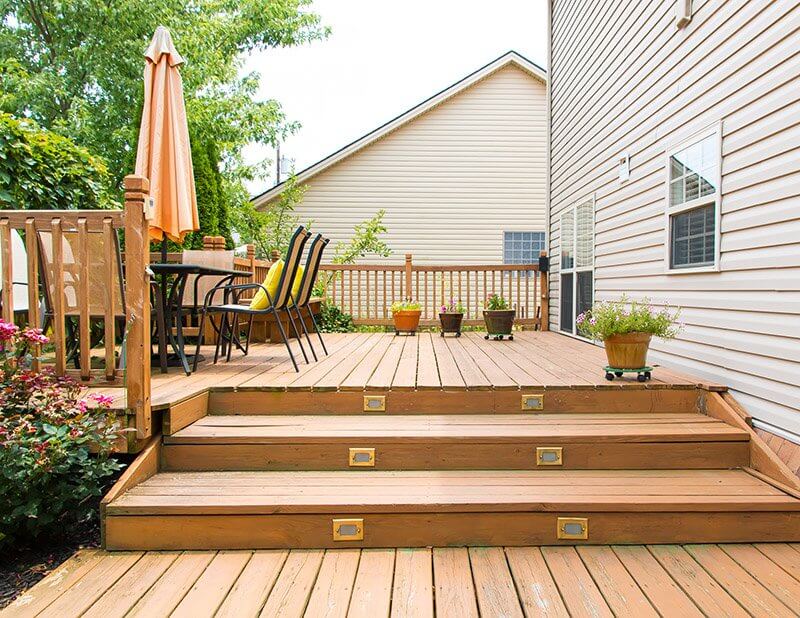 Richmond deck contractors are construction services that design and build decks for homes. They can also be hired to do repairs on an existing deck. These local pros have the knowledge and experience to create beautiful, functional outdoor living spaces that will enhance your home's outdoor space. 
Why is it important to choose the right deck contractors in Richmond?
It's essential to choose an experienced team of top deck builders because they will be responsible for creating a perfect space for your needs. They will know how to design and build a deck that fits your style and budget. 
Richmond deck builders will also help you choose the best materials for your project. They can recommend options that will withstand weather conditions in your area and advise you on which materials are most affordable. 
When you choose the right builder, you can be sure that your project will succeed. They will take care of everything from start to finish, and you'll have a beautiful new deck to enjoy for years to come! 
What are some of the qualities you should look for in deck building companies?
When picking a professional deck-building team, you should seek certain essential services and the company's and contractor's personalities and professionalism. 
Remember, there's a difference between a deck and a patio, and you want to use it for family activities, entertaining guests, and relaxing. As a result, the job should be completed to your exacting standards with care and professionalism. Don't accept anything less than what you deserve. 
Some things to consider when choosing a deck builder:
Licensed and insured
The Richmond VA builder should be licensed and insured. This protects you and the builder in case of an accident. An uninsured company or contractor may take shortcuts and do a hack job, leading to injuries or disasters such as damaged property.  
Experienced and qualified
The builder should be experienced in the type of deck you want, whether a simple patio or a complicated multi-leveled deck with custom features. They should also be familiar with local building codes that may affect your project. The contractor should also take care of the necessary paperwork and permits. The company should have a team of experienced professionals who can build your deck with the finest materials, quality service, and according to your specifications. 
Punctual
As scheduled, the builder should show up to the job on time and that should be the top priority. You don't want a contractor who is hours late or doesn't bother showing up at all because they are unreliable and flaky. In addition, you don't want them using your home for storage of supplies either, so look out for that. The contractor should have a crew that can show up on time and works according to your schedule. 
Good communication skills
The builder should have good communication skills, answer any questions you may have about the outdoor living space project, and professionally communicate with you, so there are no misunderstandings or miscommunications down the road. They also need to listen well enough to understand what your expectations are for the project and the outcome.  
Clean and organized worksite
The builder's job site should be clean, organized, well-organized, so you know where things are at all times. If they leave a mess or throw tools everywhere, it may cause accidents or injury to yourself or your family members, as well as damage the property itself due to clutter getting in the way.  
Pays attention to detail
The builder should be someone who pays attention to detail and takes pride in their work, ensuring a high-quality finished product that you will be happy with for years to come. Look for a contractor who has an eye for design and is willing to go the extra mile to make sure your needs are met. 
References
Ask the Richmond VA builder for references, and be sure to check them out. Talk to past clients to get their honest opinion of the contractor's work, whether they were happy with the finished product, if there were any problems or delays, and if they would recommend the deck builder to others.  
Creativity
A good Richmond VA builder should provide you with a range of options and ideas for your deck. They should be able to build what you want and give you suggestions on how to improve the look or function of your deck. 
Personal qualifications 
The builder should meet your expectations of service, quality of workmanship, and budget limitations. Personal references from previous clients can help you decide if the company is worth hiring. You can also find out more about the contractor's qualifications by visiting their website or viewing pictures of their previous work. 
Cost
Different greater Richmond contractors can vary significantly in price, so it's essential to get a few different quotes before making your decision. However, make sure you are comparing apples to apples, as some contractors may include more features in their sections than others. Ensure there are no hidden charges and the deck builder is upfront about pricing from the beginning. The contractor should give you a detailed estimate for the job, including materials and labor costs. Getting a good price for the service is always the best. 
Willing to listen to suggestions
Make sure the company is willing to work with you on meeting your needs. If they are unwilling to listen, that might be a sign of things to come. A good deck builder should provide you with a range of options and ideas for your deck on which can add property value. They should be able to build what you want and give you suggestions on how to improve the look or function of your deck.
What questions should you ask a prospective contractor?
Aside from the points stated above, you can also ask potential builders these questions: 
How long have you been in business?

 

Are your employees insured and licensed to work as a contractor in the state? 

 

What kind of warranty do you offer on materials and labor for this project? 

 

Do you have any pictures or references from past projects? 

 

How much do you charge for a project of this size? 

 
What is your schedule like, and can you work around our timeframe? 

 

Will you be doing the work yourself, or will you be subcontracting to other companies? 

 

What kind of steps will you take to protect my property and landscaping during this project? 

 

Do you have a list of references from previous clients I can contact? When should they be contacted if any issues arise with your work after the job is finished?

 

How will you communicate with me throughout the project?

 
What is your policy on changes and revisions to the work order? 

 

How do you handle payment, and when is it due? 

 
By asking these questions, you'll be able to get a good sense of whether or not the contractor is reputable, experienced, and qualified to do the job. You'll also have a better idea of what to expect in terms of cost, schedule, and communication. And if any problems should arise after the project is completed, you'll know who to contact for help. 
Final thoughts on how to find the best Richmond deck pros 
Now that you have a good idea of what to look for when choosing a Richmond area builder, it's time to start shopping around. But how do you know which builder is the best fit for your needs? 
Start by asking friends and family for referrals. Chances are, someone you know has had a great experience working with a builder in the past. Once you have a few names, research them online and read reviews. This will give you a good idea of what to expect from each one. 
Finally, set up meetings with each builder on your list and ask lots of questions. Get a sense of their experience and expertise and determine what kind of design and construction process they use. Be sure to ask for estimates so you can compare the cost of each option. 
By following these steps, you're sure to find the best builder for your outdoor spaces! 
If you are thinking of getting quality decks for your home, don't hesitate to contact Richmond Deck Pros. We will come out and give you an estimate on what it would cost to build your dream backyard space!  
Our team is reliable, trustworthy, efficient, experienced, and provides immediate assistance, so there's no need to worry about the job being done right or on time. With our 20 years of experience, we have developed many skills that make us experts at building decks. Give us a call today to get a free estimate!